According to the latest report published by Credence Research, Inc. "Diabetic Retinopathy Market Growth, Future Prospects and Competitive Analysis, 2016-2022," the  global diabetic retinopathy market was valued at USD 7.9 Bn in 2015, and is expected to reach USD 12.6 Bn by 2022, expanding at a CAGR of 6.7% from 2016 to 2022.
Browse the full report Diabetic Retinopathy: Market Growth, Future Prospects and Competitive Analysis, 2016-2022 at http://www.credenceresearch.com/report/diabetic-retinopathy-market
Market Insights:
Perpetual growth in the prevalence of diabetes in middle- and low-income countries and further anticipation of future rise indicates the growth in prevalence of diabetic related complications, and hence diabetic retinopathy. Diabetic retinopathy is among the key causes of legal blindness in working adult population. With overall prevalence of around 34% in the total diabetes population, the burden in form of direct and indirect management cost of diabetic retinopathy is humongous. Treatment for diabetic retinopathy is determined upon the severity of condition, where non-proliferative diabetic retinopathy is excuses from treatment.
Qualitative information sets such as market dynamics (drivers, challenges, future prospects) and market inclination insights are provided in this market assessment report. Tools such as competition assessment and attractive investment proposition are also included in this study for studying the global market competition. The report concludes with company profiles section that highlights key information about the major market players operating in the global diabetic retinopathy market.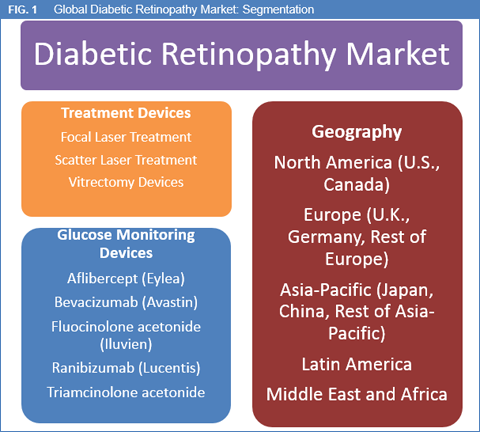 Download sample research report @ http://www.credenceresearch.com/sample-request/57942
Table Of Content:
Chapter 1 Preface
1.1 Report Description
1.2 Market Segmentation
1.3 Research Methodology
Chapter 2 Executive Summary
2.1 Diabetic Retinopathy Treatment Devices Market, by Type, 2015 (USD Mn)
2.2 Diabetic Retinopathy Treatment Drugs Market, by Type, 2015 (USD Mn)
2.3 Diabetic Retinopathy Market Share, by Geography, 2015 (Value %)
Chapter 3 Diabetic Retinopathy Market: Market Dynamics and Outlook
3.1 Introduction
3.2 Diabetic Retinopathy: Facts and Figures
3.3 Drivers
3.4 Challenges
3.5 Future Prospects
3.6 Attractive Investment Proposition …
Chapter 7 Company Profiles
7.1 Alimera Sciences, Inc
7.1.1 Business Description
7.1.2 Financial Health and Budget Allocation
7.1.3 Product Positions/Portfolio
7.1.4 News Coverage
7.2 Pfizer
7.2.1 Business Description
7.2.2 Financial Health and Budget Allocation
7.2.3 Product Positions/Portfolio
7.2.4 News Coverage …
Request for customization research report @ http://www.credenceresearch.com/request-for-customization/57942